Interview of the founder of "Slavmed" Medical Center Armine Hovakimyan's
28/12/2018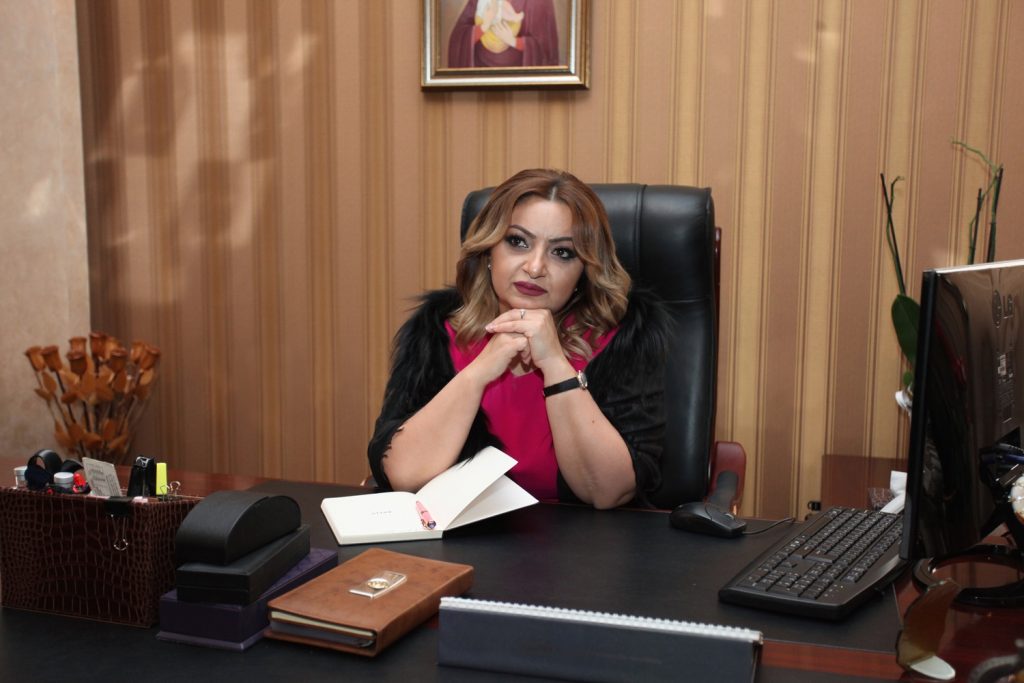 There are professions for which the holidays are the everyday. New Year holiday is also a working day, says the founder of  "Slavmed" Medical Center Armine Hovakimyan. The head of the medical center told about the achievements of Slavmed Medical Center's four-year activity and plans for 2018.
–You've been the founder of  "Slavmed" Medical Center since 2014. How did the idea of establishing a medical center come about?
-The idea was as follows: to establish such a center where in addition to professional skills, doctors would have great possibilities to utilize the best tools and laboratory equipment that will make their work well-rounded, as physician's professional skills alone will not be sufficient. We were also willing to have such  a place where doctors will not be prescribing unnecessary testings and sending patients from one doctor's cabinet to another – an unpleasant and very common experience and where the patient will not only see a modernized and well equipped medical center, but will also feel supported and cared for, a place where sanitary and hygiene conditions will be strictly maintained, and lastly a center, where a "single-window" payment principle will be applied, where the patient makes a payment to the cashier, according to the price list, and does not pay any extra money to the doctor, the nurse or the hospital attendant.
Taking into account all of these important circumstances, we have established a center, which today is a multi-functional medical facility with childbirth hospital, gynecological, urological, ENT, Vascular Surgery, orthopedics and traumatology, general, endoscopic, laparoscopic, micro- and plastic surgery departments. The Center fully complies with European standards: the latest generation equipment, experienced professionals, modern furnishings, comfortable hospital rooms, multifunctional beds, necessary hygiene supplies and of course, a complete meal three times daily. In addition to all of the above, affordable pricing has been put in place for everyone- reasonable price for healthcare facilities are available to everyone.  It is with great pleasure that I can say today that we were able to realize the idea of establishing a facility that is one of a kind in terms of its completeness and its services.
–And what are the achievements of the childbirth hospital of "Slavmed" Medical Center?
-The childbirth hospital of "Slavmed" MC has been functioning since 2014, and over this time the doctors have performed over 2,000 deliveries. Observing the results, many people also advise their friends and relatives to give preference to the childbirth hospital of "Slavmed" Medical Center. I think we have gained people's confidence. Recently, we celebrated the World Prematurity Day. In order to expand the possibilities of premature infants care and rehabilitation, modern technology for their care has been introduced in the center, enabling them to reduce the common complications in newborns. To date, all the conditions are created to save the lives of premature infants at the Center's newborn intensive care and obstetrics departments, allowing physicians to take care of infants born less than 1 kg, contributing to their quality of life improvement.
-Are there developed prospective projects yet?
-Definitely, there are. "Slavmed" MC has already expanded  the facilities conditions, technical equipment, and in the very near future will able to provide a wider range of medical services by introducing new methods used in modern medicine that will be unique throughout the region. Highlighting the quality of medical services, affordability and availability, and based on standards established by the World Health Organization, as a development guide, we have chosen the JCI accreditation system – for this purpose, a new integrated management system for quality and safety of medical services has been introduced in the center.
Holidays are coming soon, but they don't refer to doctors…
There are professions for which the holidays are the everyday. New Year is also a working day for a doctor, and the most pleasant surprise is the absence of severe or fatal outcomes.
–What is your New Year's wish?
I want the New Year to be a year of valuable decisions for all of us, that no event in life would make inhuman, that our traditions are kept strong in our families, that our children treat their parents with love and respect; I want peace for our country, safety for our soldiers and those waiting for them relieved. And for all this you need a good health, so look after your health and see the beauty of the world around you to be happy, cherish those surrounding you, and spread peace on every step. Let each day of the coming year bring you joy and happiness! Happy New Year and Merry Christmas!