Neonatal department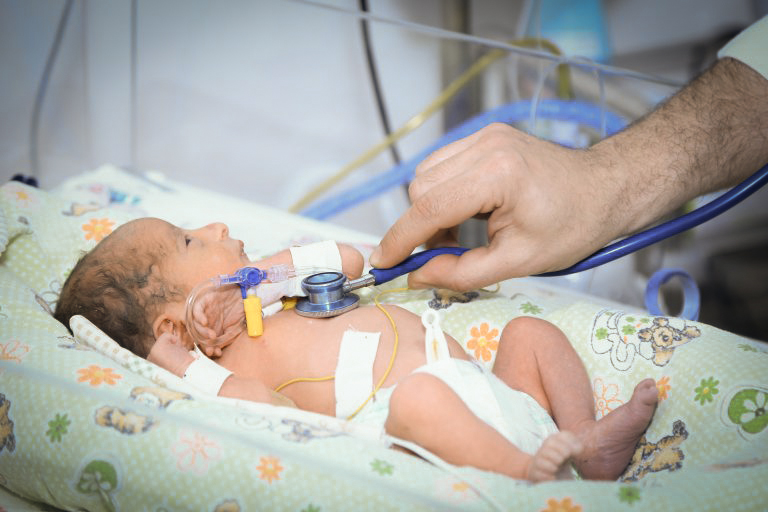 The neonatal department of Slavmed Medical Center is equipped with highly demanded modern gadgets for newborn check-ups and urgent care, including incubators for both low-weight and premature babies, video surveillance monitors, modern equipment for phototherapy and radiant warmer beds , artificial respiration devices, breathing systems, and a special centralized oxygen supply system.
The equipment allows monitoring and intensive caring for premature and extremely underweight infants, enables early detection of newborn problems and providing necessary medical care even in most severe cases. The department is regularly renovated and replenished with new equipment; the best internationally-recognized methods necessary for neonatal care are being implemented. All the rules necessary to ensure a proper sanitary-epidemic regimen, are strictly maintained and controlled here. The department emphasizes the need for mother-infant bed sharing, and immediately following the childbirth, new mothers are taught the necessary action sequence for newborn care as well as the importance of breastfeeding. Experienced and qualified nurses take care of newborns, and their health condition is monitored by highly qualified neonatologists. Prior to newborn's discharge, the staff ensures that the birthing mother has mastered the sequence of all the activities required for newborn care, and will be able to care for the newborn at home. There is also a clinical and diagnostic laboratory attached to the department, that is provisioned with the best contemporary medical equipment, which enables full automation of blood and other biological fluids examination.
Specialists of neonatal department of Slavmed Medical Center are regularly trained in leading foreign medical institutions and present their reports during major conferences and seminars.
For additional information please contact our administrators directly via phone number or e-mail address provided below:
 Phone: +374 (10) 322211 (open 24/7)
info@slavmed.am